Watch the new GROUNDING MEDITATION recorded especially for Earth Day!
May 14, 2022 – IT WAS A GREAT DAY FOR ANOTHER EARTH ART INSTALLATION AT ALTAMONTE SPRINGS' CRANE ROOST PARK!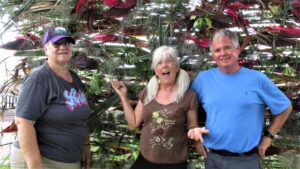 EARTH ART WORKSHOPS & EVENTS FOR ALL AGES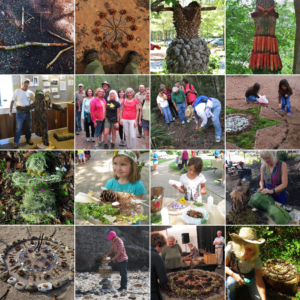 ASK YOURSELF…
… When was the last time you connected with nature? When was the last time that you played as you did as a child growing up? And when was the last time that you got together with new friends and invented "stuff"? Your childhood was the time of your life when your creative lights were fully on. Your imagination was in high gear. You were a young genius!
Well, you know what? You still are a genius and you need to go outside and play. Eco and Enviro Art programs are just what you need!
Today's stress levels are way too high. We may be connected through texting and electronics but that type of constant connection takes its toll. The media aims to scare us into attention so it is no wonder people are experiencing adrenal burnout and overload. People need a nature break. Human beings need balance. We need to get away from the over-stim and back to the outdoors. We need to breathe fresh air, to laugh, de-stress, reconnect and re-create within our natural surroundings. We need nature therapy.
Eco and Enviro Art Programs give people the opportunity to get into nature and to create in "earth healthy" ways. Nature Therapy Guided Programs help adults and youth tap into their creativity and connect to the planet by elevating their senses.