FESTIVAL LOOMS
CRANES ROOST PARK, THE CITY OF ALTAMONTE SPRINGS, FLORIDA
FAMILY FEST – S.T.E.A.M. EVENT – MAY 15, 2021
SEMINOLE COUNTY GETS THEIR FIRST EARTH ART LOOM
 
AND… CRANES ROOST MAY 2022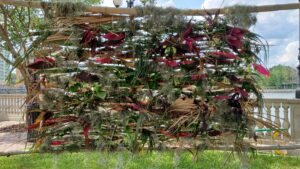 BOURLAY HISTORIC NATURE PARK – LEESBURG, FLORIDA.
THE DAUGHTERS OF THE AMERICAN REVOLUTION & LAKE COUNTY WATER AUTHORITY'S
MARY ELLEN ROBERTSON DAY EVENT.
FEBRUARY 1, 2020
"LAKE COUNTY GETS THEIR FIRST EARTH ART LOOM"
EARTH ART MANDALAS
MASSACHUSETTS DEPARTMENT OF CONSERVATION AND RECREATION
BORDERLAND STATE PARK, EASTON, MA
OCTOBER COMMUNITY MANDALA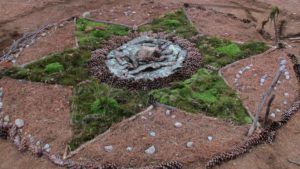 TERRA CASA RETREAT CENTER
PLATTEKILL, NY
---
ART BLAST INSTALLATION
In August 2016 Patricia was chosen as a winner of a very special and rare national art show called an ART BLAST.  A large house on a historic property in Massachusetts scheduled for demolition was opened up for artist's proposals. All surfaces
could be used from floor to ceiling. The show's theme was "Bringing the Outside In."  Below are photos of her award-winning room.
Patricia's proposal called for a nature celebration incorpora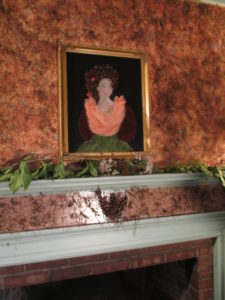 ting sacred geometry created from foraged items from the New England woods. She was assigned the house's library. With a few adjustments she brought the celebration indoors as "The Final Soiree" of the house at the Governor Ames Estate. She tipped the hat to the former residents with tongue in cheek fun elements; a portrait of clover and beech leaves over the mantel, a piano player with sheet music from the 1890s, a statue of one of the Ames women and period stencils which added to the sacred geometry of the room. The focal wall treatment was paint and pine needles. Deliciously aromatic mugwort graced the top shelves of all the bookcases and nature and wind chime sounds filled the room. The seed pods and glass heart window curtains seemed to move and "bling" together in the breeze. The multi-sensory experience tickled eyes, ears, nose and brain.

---
---
The Ames Mandala Art Installation
12th Annual Blanche Ames National Art Exhibit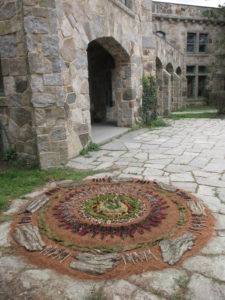 ---
EARTH ART DRESSES
Woodland Fashions
100% Compostable Art (no wire or commercial glues)
Legacy Juried Art Exhibition 2015 Installation
Governor Ames Estate – Easton, MA
Summer Dance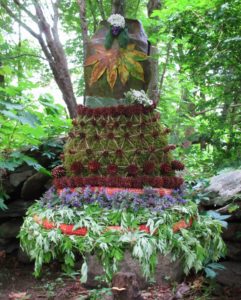 ---
---
Legacy Juried Art Exhibition 2015 Entry
Spring Prom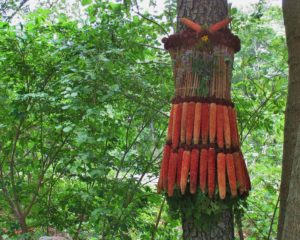 ---
---
Visitor's Center @ Borderland State Park – Easton, MA
"Peppy" Little Number – 2016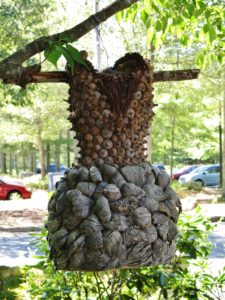 ---
---
Pixie Dress – 2015
gently aging over three seasons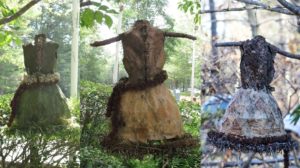 ---
---
Sr. Pino – 2016
An estimated 375 pine cones and 250 feet of wire on a chicken wire armature. Borderland State Park Visitor's Center. Easton, MA.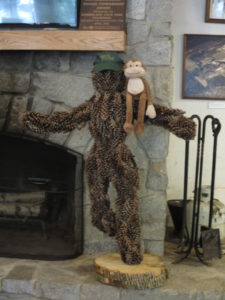 ---
---
SITE-SPECIFIC EARTH ART VIDEO