What is Enviro Art? You can google search Environmental Art and come up with long and detailed explanations but let's keep it simple. This is what you need to know about Enviro Art Programs with Get In2 Nature.
ENVIRO ART IS CREATIVE FUN!
It is FUN getting outdoors into nature and stimulating the creative centers of your brain making "stuff" with others. It is kid play with big people. Many of the programs utilize elements found on the ground (foraged) and with the use of your imagination made into works of "transient" art. Bring your Creative Spirit, your Love of Nature, and your Digital Camera to take photos! You will want to save images of your creations.
Here are just some of the activities waiting for you to experience…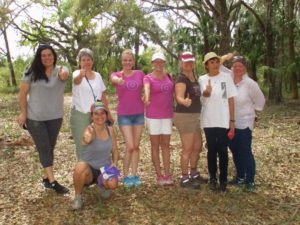 Create Your Own Personal Earth Mandala
Basic info: After gathering and signing in you will be given instructions and the specifics of the day's happenings then you will be led on a short hike to gather materials. Patt will guide you by pointing out what foraged items work well in Earth Art creations. A site will have been chosen in advance suitable for people to clear their own space and begin to create after some demonstrations and an earth meditation for focusing and connecting. Silently, so as to hear your inner voice, you will construct your personal earth mandala. When everyone is finished there will be an Indian council "talking stick" to recount your experiences. Finally, digital photos will be taken for you to "capture" and retain a record of your creation.
Patt is an expert in making Earth Mandalas and has created them on three continents and in several countries. Her digital photographs have been juried into and sold at national art shows.

**********
Earth Art Loom Weaving
Not just for little hands Earth Art Looms are getting very popular and pronounced in the Environmental Movement. Why? Because they make a statement that public art can coexist alongside trail systems in an environmentally healthy manner. Not only do the looms look fantastic but they invite people to participate in the "growing" of them. When people get hands-on with nature's paintbox a greater appreciation for Mother Earth is fostered. This appreciation is then passed down to the children and their children.
Earth Art Looms are a "movement." GetIn2Nature is all about getting people excited and into the great outdoors. We do it through art. Not by carting in paper and paint, but by using the paintbox that nature has provided us; the items found on the earth's floor and the oceans and river's shorelines.
This is fiber arts in its most natural and basic form.
Contact Patt Gilmore  pattgilmore@gmail.com  for ideas on how you and your organization can utilize the Earth Art Loom concept, both small and large, in your neighborhood.
Photos from Feb 1, 2020 – Bourlay Historic Nature Park, Leesburg Florida.

The DAR & LCWA's Mary Ellen Robertson Day event.

"Leesburg Get's Its Very First Earth Art Loom"
Photo from Cranes Roost Park in Altamonte Springs, FL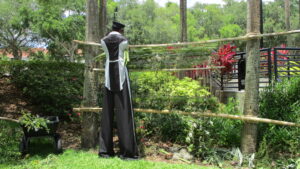 MAY 2021 – FAMILY FEST – A FELLOW ON STILTS HELPS WEAVE THE TOP.
SPECIAL ANNOUNCEMENT – SAVE THE DATE

WE'RE CREATING ANOTHER EARTH ART LOOM IN ALTAMONTE SPRINGS, FL ON MAY 14, 2022
Stone Stacking and Rock Balancing
(NOT OFFERED IN FLORIDA)
Stone Stacking is an art form everyone can do. Rock Balancing takes a lot more practice and patience. Try both! Stacking stones is a way to not only make something beautiful within nature it is also a way to become highly focused. In essence, it is a tool to tap into that meditative "zone" of your brain. The practice is a great way to relax the chatter and experience "mindfulness". If you can't sit still like a pretzel and mediate to de-stress then this is the Enviro Art project for you. It is active and meditative at the same time.
Imagine a beach or forest area full of these creations. Definitely bring your camera!
**********
Driftwood/Forest Creatures & Wee Wild Things
Basic Info: Whether we meet at the shore, in a forest entrance or in a meeting room be sure to bring your imagination and playful eye. The goal is to find or select items to incorporate into little people or critters. If outside, after ample time foraging we will seek shade, dump our forest or beachcombing contents out and design. A list of handy tools to bring along will be provided to help in fastening body parts together.  Bring your camera to document the fun. (Interior workshops natural materials will be provided.)
**********
WHY NOT BUILD A COMMUNITY MANDALA?
Do you need a healthy outdoor activity for a gathering of friends or your membership organization? Contact Patricia to chat about the positive possibilities of CUSTOMIZED PROGRAMS. Consider making a huge group mandala together. We'll get you all organized from start to finish.
Are you searching for something different to do with your friends or membership organization? We can customize a program to suit your needs. Whether you need an activity for a birthday, reunion, retreat, team building gathering, creative think tank, brainstorming meeting or something else we have great ideas that bring your group outside having healthy imaginative fun. Programs stimulate the genius within.