Neurographic Art: Release Past Trauma, Set Goals
This mindfulness drawing technique was discovered and developed by Pavel Piskarev, a Russian psychologist and architect that coined the name neurographic art. NeuroArt is an artistic approach to transforming negative emotions and taking "the edges off' our internalized stress. This special drawing tool helps to link our conscious with the subconscious by activating connections between our brain cells – neurons – thus offering the key to infinite sources of energy available through our brains. No artistic ability is required and it is fun!
Great stress reduction activity/presentation for small and large groups:  45 min to 1-hour
Line Illusions: Lull the Mind into Focused Calm
This easy one-line technique repeated in a pattern creates surprisingly complicated-looking results. People are amazed at the final drawing as it is completely unpredictable to the new student. The repetitive process is so simple and "straightforward" that it becomes hypnotic thus lulling the mind into a calm focused state. Rest the over-worked mind and learn how to relax. Line Illusions are another "no artistic ability required" drawing method.
Great stress reduction activity/presentation for small and large groups:  45 min to 1-hour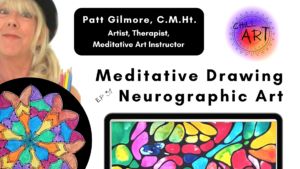 "My mandalas were cryptograms concerning the state of the self which was presented to me anew each day…I guarded them like precious pearls….It became increasingly plain to me that the mandala is the center. It is the exponent of all paths. It is the path to the center, to individuation."    Dr. Carl G. Jung – Memories, Dreams and Reflections
Dharma & Draw
No drawing skills are required. Quietly and mindfully delve into a bit of sacred geometry while getting some fresh air (if outside) by listening to the sounds of nature or calming music. Black ink on 5″ x 7″ cards. Drawing materials provided. Learn how to use the mandala as a tool to clear and balance the chaotic mind. These "classes" are meant to be small intentional meditative group circles. Please inquire.
Great stress reduction activity/presentation for small and large groups:  45 min to 1-hour
Patricia teaches mandala drawing and painting as well as constructing them from natural materials. Are you looking for something to soothe your mind, help reduce stress and discover the peace within you? Try one (or all) of her classes.
Therapeutic Mandalas in Watercolor: Order the Chaotic Mind
"Creating mandalas on a blank piece of watercolor paper is an extremely relaxing and calming practice. Rewire the chaotic mind through the artful practice of meditative drawing. As Patt says, "You can't do stinkin' thinkin' and draw mandalas. When your mind wanders you make a mark in a place that you did not intend. Then to keep the symmetry you need to make that mark in other areas. It is a reminder to keep your focus on the task at hand. This soothes the mind."  Materials list provided.
With proper instruction, your blank piece of watercolor paper will transform using a pencil, compass, ruler, eraser, pen, and watercolor paint. Discover an inner sense of peace and self-expression. As you draw Patricia relates mandala history and use in religion, decoration, and psychology. You finish the mandala by using ink.
Full workshop for small groups: 3 (+) hours with a break
Dr. Carl G. Jung is quoted to say …"Most mandalas have an intuitive, irrational character and, through their symbolical content, exert a retroactive influence on the unconscious. They, therefore, possess a "magical" significance, like icons, whose possible efficacy was never consciously felt by the patient." Mandala Symbolism
Mandala on Canvas Paint Party
Often hosted as a Sip & Paint private party (inquire as to details) this mandala acrylic painting on canvas class is less meditative and more chatty. Have fun with new friends by filling in a mandala template on a 12″ x 12″ canvas. Watch how everyone's mandala turns into a unique painting of their own. Choose your colors and add detail. No artistic skill is required. No pressure, just FUN! What a great option for a Friend's Night Out or In!
Generally, this is a two-hour event. All painting supplies are included and the canvases are pre-lined to save time and reduce stress. Limited number of students.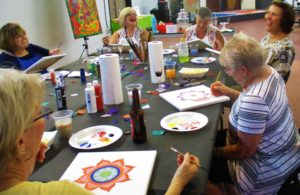 ~~~~~~~~~~~~~~~~~~~~~~~~~~~~~~~~~~~~
Check out the EnviroArt programs
~~~~~~~~~~~~~~~~~~~~~~~~~~~~~~~~~~~~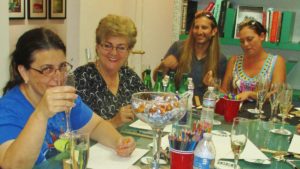 Mandala Design & Color
Don't have time for a full Mandala in Watercolor Workshop? (The papers need to dry thoroughly before inking the details.) Well then do what the Modernism Museum in Mount Dora, Florida did.  Book Patricia to teach the basic setup, then fill in the designs with colored pencils. Participants can then ink in the fine details on their own time.
Generally, this is a two-hour event. It makes a great Sip and Draw event or Edu-tainment Session for a larger conference. All supplies are included.